Gold Standard Gainer - Optimum Nutrition
Benefits and Results:
55 Grams of Complete Proteins From Primarily Isolate Sources†
770 Calories From Quality Ingredients†
2:1 Ratio of Carbohydrates to Proteins†
112 Grams of Carbs With Oat, Pea & Potato†
11 Grams of Fats From Flaxseed, Chia, and MCTs†
Gold Standard Gainer By Optimum Nutrition - Weight Gainer
Bulking can be hard. That's why Gold Standard Gainer was made. It makes the process of gaining weight and building muscle a piece of cake.
What Is It?
Gold Standard Gainer is optimum nutrition's newest weight gainer. Each serving of Gold Standard Gainer has 770 calories, 55 grams of protein, and 112 grams of carbohydrates. The ingredients work to help you build muscle mass and improve the recovery process. It does all the work for you and makes your job a whole lot easier - just drink!
How Does It Work?
Ingredients:
Protein Blend (Whey Protein Isolate, Whey Protein Concentrate, Milk Protein Isolate, Hydrolyzed Whey Protein Isolate): Aids in building muscle mass and enhances recovery. †
Carbohydrate Blend (Oat Flour, Pea Starch [Carb10], Potato Starch): Can help you put on additional weight and muscle mass. †
What Can I Expect?
Along with weight training and a balanced diet, you can experience weight gain, muscle growth, and recovery. †
Who Should Take It?
This mass gainer is great for those looking to put on extra weight and muscle mass. †
Who Shouldn't Take It?
It is best to consult with your physician before use if you are taking any medications or are pregnant/nursing.
Featured Customer Reviews:
Review by Sean:
Awesome taste and gainer Using after a cut, to keep gains and works awesome...low on fat and not super heavy on calories. Perfect for maintaining results and slowly building weight up, makes great pancakes and cookies for on go snacking
FAQ:
Does this have creatine?
No, this does not contain any creatine.
How many calories are in each serving?
Each serving has 770 calories.
Is this vegan?
Is this gluten-free?
The manufacturer doesn't clarify. It would be best to contact them directly.
Comparisons:
VS Optimum Nutrition Pro Gainer: These have similar formulas and results, but Pro Gainer has slightly less calories and carbohydrates than Gold Standard. Pro Gainer also has a larger Vitamin/Mineral blend.
VS Optimum Nutrition Serious Mass: This is a much stronger mass gainer than Gold Standard. This has 1250 calories and 252 grams of carbs in each serving. If you want to put on serious mass, this is the better option.
VS BSN True Mass: This is very similar to Gold Standard Gainer. Both are great options.
Stacks:
For additional muscle growth and strength, you can pair this with a creatine like Optimum Nutrition Creatine Monohydrate.
How Do I Take It?
Directions and Dosages:
BETWEEN MEALS: Mix up 1 scoop of Gold Standard Gainer between meals to help support a high calorie diet.
POST WORKOUT: Mix 1-2 scoops of Gold Standard Gainer in 10 - 20 fl oz of milk or water 30 - 45 minutes following exercise to support maximum recovery.
BEFORE BED: Mix up 1 scoop of Gold Standard Gainer about 45 - 60 minutes before bed to help muscles recover while you sleep.
For healthy adults, consume enough protein to meet your daily protein requirements with a combination of high protein foods and protein supplements throughout the day as part of a balanced diet and exercise program.
What's In Gold Standard Gainer?
Supplement Facts / Label: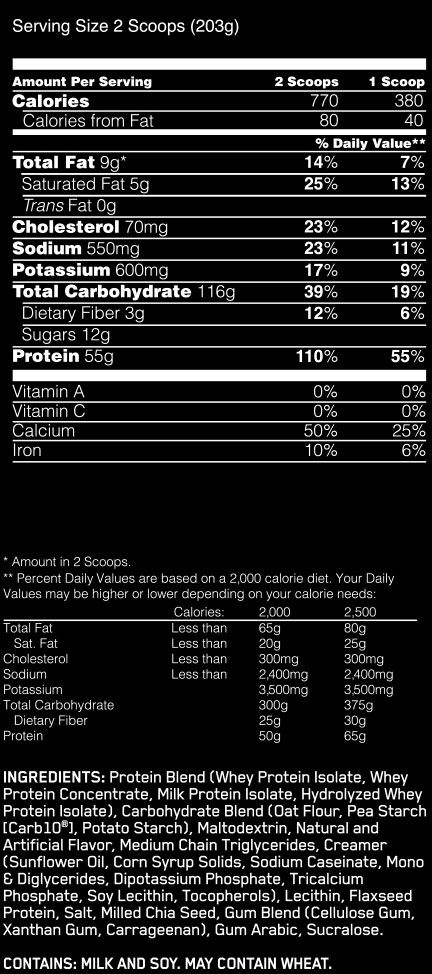 Warnings and Side Effects:
Store in a cool, dry place. ALLERGY WARNING: Contains Milk and Soy. May Contain Wheat.
Disclaimer:
PLEASE NOTE: Product images represent the product offered but may not contain exact attributes. Please read the product description for the specific attributes of this product.
†PLEASE NOTE: The intention of the information above is for reference only. It is our goal to maintain and display accurate information. Yet, we can't guarantee it represents the latest formulation of the product. If you have any concerns, please visit the manufacturer's website. The information above is not a representation of our views at Same Day Supplements. These are the views and information provided by the product's manufacturer. The Food and Drug Administration has not evaluated these statements. The intention of this product is not to diagnose, treat, cure or prevent any disease or illness.
*Prices are subject to change at any time and items may limit to stock on hand.
References:
Yunsheng Ma, Barbara Olendzki, David Chiriboga, James R. Hebert, Youfu Li, Wenjun Li, MaryJane Campbell, Katherine Gendreau, and Ira S. Ockene (2005 Feb 15) Association between Dietary Carbohydrates and Body Weight https://www.ncbi.nlm.nih.gov/pmc/articles/PMC1199523/
Daniel W. D. West, Sidney Abou Sawan, Michael Mazzulla, Eric Williamson, and Daniel R. Moore (2017 Jul 11) Whey Protein Supplementation Enhances Whole Body Protein Metabolism and Performance Recovery after Resistance Exercise: A Double-Blind Crossover Study https://www.ncbi.nlm.nih.gov/pmc/articles/PMC5537849/
In-stock orders placed before 3pm EST ship out the same day.
We offer many shipping options to countries like:
Brazil
United Kingdom
Canada
Germany
Australia
Japan
India
France
Israel
Worldwide
More Information

| | |
| --- | --- |
| SKU | GOLD-STANDARD-GAINER |
| Manufacturer | OPTIMUM NUTRITION |
Customer Reviews
Awesome taste and gainer

Using after a cut, to keep gains and works awesome...low on fat and not super heavy on calories. Perfect for maintaing results and slowly building weight up, makes great pancakes and cookies for on go snacking

Very tasty!

I have been using this for about a week now. I mix one scoop twice a day for my post work out and before bed. I have yet to actually see any gains, but this along with a more aggressive pre workout has led to a lot better quality workouts. The consistency is pretty grainy, but the taste is so good I don't care. It doesn't fill me up too much which allows me to consume more calories and nutrition after drinking it. That's nice because the goal of this is to help you gain weight, not fill you up on protein alone.