Elite Mass Gainer By Dymatize Nutrition
Elite Mass Gainer Benefits and Results:
High-Protein Anabolic Gainer †
Lean Muscle Gains †
Sustained Release 55 Grams of Protein Matrix †
Sustained Carb Matrix with Waxy Maize †
Gluten-Free †
Elite Mass Gainer By Dymatize Nutrition - Protein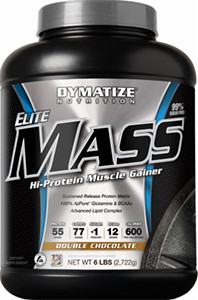 Ultimate Gainer Formula
Elite Mass Gainer is a Hi-Protein Muscle Gainer. Elite Mass Gainer has 54g of sustained-release protein matrix, 11.5g of BCAA's, 1000mg of Creatine Monohydrate, 10g of glutamine, 250mg of CLA, good source of fiber, advanced lipids including sunflower and MCT's, 100mg zytrix enyme blend, and 16 vitamins and minerals. Dymatize Elite Mass Gainer is the ultimate gainer formula designed to help you pack on maximum lean mass and recover from your intense workouts. Elite Mass Gainer' cutting edge formula delivers a massive 600 calories, complete with 54 grams of premium quality protein, lean lipids, complex carbohydrates, creatine monohydrate, BCAA's (branch chained amino acids), digestive enzymes, and a comprehensive vitamin and mineral blend! Everything you need to gain muscle and body size and to support a faster recovery from strenuous workouts is in Elite Mass. Premium Sustained-Delivery Protein Matrix: Elite Mass Gainer contains a special premium protein blend of cross-flow, microfiltered, cold-processed, whey protein isolate and concentrate, micellar casein (no inferior caseinates) and egg white protein.
Superior Amino Acid Profile
Elite Mass Gainer protein blend, which is very low in lactose and has a superior amino acid profile, has been instantized for easy mixing without a blender yielding unbeatable bioavailability and digestion. Advanced Lipid Complex: Lipids are a highly concentrated energy source- more than double that of protein or carbohydrates and are a necessary component of muscular growth. This scientific lipid blend, including medium chain triglycerides (MTC's), CLA, and Sunflower oil is readily available muscle fuel only seen in Elite Mass Gainer. Strength and Recovery: To round out this high performance gainer we add creatine monohydrate. Creatine is one of the most studied and highly regarded nutrients to increase lean body mass and strength. Elite Mass Gainer packs in 25 grams of Essential Amino Acids, 11.5 grams of the critical BCAA's (L-Leucene, L-Isoleucine, and L-Valine), and 10 grams of Glutamine, all adding up to support real gains in strength and faster recovery. Elite Mass Gainer will optimize the results of each strength-training workout while a complete vitamin and mineral profile helps you ensure your body gets the balanced nutrition it needs. Elite Mass Gainer will help you pack on the lean mass and develop the physique you've always wanted. For optimal results, combine with a sensible diet and an intense training program.
What's In Dymatize Nutrition Elite Mass Gainer?
How to Take Dymatize Nutrition Elite Mass Gainer:
As a dietary supplement, add 3 rounded scoops of Dymatize Elite Mass Gainer to 16 oz of cold water or milk. Mix thoroughly. Dymatize Elite Mass Gainer is highly concentrated, and due to its potency you may want to consider using a 1/2 serving of Elite Mass Gainer two or three times throughout the day.
Warnings:
Contains Egg, Milk, Soy (Lecithin). Consult with a fhysician prior to use if you have any medical conditions. Do not use if pregnant or lactating. Use only as directed. KEEP OUT OF THE REACH OF CHILDREN. Use this product as a food supplement only. Do not use for weight reduction.
PLEASE NOTE: Product image is representative of the product offered but may not have the exact attributes. Please read product description for the specific attributes of this product.
PLEASE NOTE: The information above is intended for reference only. While we attempt to keep our information accurate, we cannot guarantee it is an accurate representation of the latest formulation of the product. If you have any concerns, please visit the vendor's web site. The information above are the views of the product's manufacturer, not the views of Same Day Supplements. These statements have not been evaluated by the Food and Drug Administration. This product is not intended to diagnose, treat, cure or prevent any disease.
*Prices are subject to change at any time and some items are limited to stock on hand.
In-stock orders placed before 3pm EST ship out the same day.
We offer many shipping options to countries like:
Brazil
United Kingdom
Canada
Germany
Australia
Japan
India
France
Israel
Worldwide
More Information

| | |
| --- | --- |
| SKU | ELITE-MASS-GAINER |
| Manufacturer | Dymatize Nutrition |
Customer Reviews
Best Gainer!

Definitely helps you gain weight. Tastes great. Always looking forward to taking it.