EAA Max Benefits and Results:
Complete Essential Amino Acid Profile †
Full Serving of BCAAs in a 2:1:1 Ratio †
Maximal Muscle Growth †
Repair and Recovery †
EAA Max by Primeval Labs - Amino Acids

What Is Primeval Labs EAA Max?
Primeval Labs fans have been clamoring for a comprehensive amino acid supplement for years now, but truth be told, developing the perfect profile (and flavor) is no small feat. Sure, it'd be easy to just pump out some underdosed BCAA-only supplement, but that doesn't provide everything your body needs to effectively synthesize muscle tissue. But, that's not good enough for us! The long wait is over now as we've launched EAA Max -- the best tasting, most effective, and efficaciously-dosed amino acid supplement on the market. EAA Max provides a full essential amino acid profile PLUS a full serving of 2:1:1 BCAAs for maximal muscle growth, repair and recovery! EAA Max is your all day, every day amino acid supplement. Use it on training days for intra workout fuel, or on non-training days as a way keep a steady supply of essential amino acids pumping into your muscles. Mix a scoop or two into a half gallon water bottle and sip throughout the day. That's the great thing about EAA Max it can literally be used ANYTIME, ANYWHERE to enhance muscle growth and recovery!
Where Other Amino Acid Supplements Fail?
Underdosed ingredients
Incomplete amino acid profile
Ridiculous Leucine:Isoleucine:Valine ratio (ex. 8:1:1, 10:1:1, etc)
Terrible taste
Lacking crucial electrolytes
Why Choose EAA Max?
Typical amino acid supplements only contain the three branch chain amino acids (BCAAs) consisting of Leucine, Isoleucine, and Valine. While there's nothing wrong with BCAA supplements, they're simply not the full spectrum of amino acids needed for proper protein synthesis and repair. Think of it like playing a game of football with only 6 of the 11 players -- it just won't work! Essential Amino Acids (EAA's), on the other hand, contain the entire range of amino acids your body demands when it needs to build new tissue. EAAs are called "essential" because the body cannot synthesize them on its own. You MUST obtain them through food or supplements.

Furthermore, most individuals aren't eating a diverse enough diet, and therefore miss out on crucial EAA-rich foods. Plus, some may be eating a well-balanced diet, but may not be absorbing the nutrients properly. Either way, the end result is EAA deficiency and lack of gains! EAAs not only stimulate protein synthesis, but they support energy production and cellular repair. Additionally, EAAs are needed for complete and healthy digestion and nutrient absorption. Perhaps most importantly, EAAs protect each cell's mitochondria -- the "power plant" of the cell that generates ATP! When you add it all together, the answer is clear, EAAs blow BCAAs out of the water in every way!
Maximize Muscle Building with EAA Max!
The wait was long, but it was well worth it. EAA Max is the culmination of years of research and testing that has resulted in a truly effective, properly dosed EAA supplement that also tastes phenomenal! The wait is finally over, EAA MAX is here!
What's In Primeval Labs EAA Max?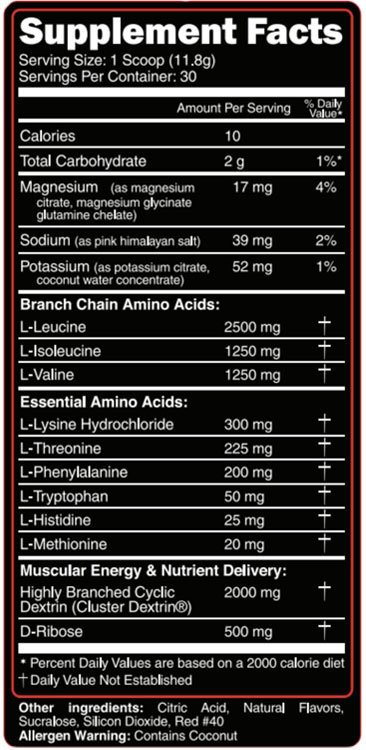 How Do I Take Primeval Labs EAA Max?
Mix one scoop of EAA Max (11.8g) in 10-12oz of cold water and consume during exercise on training days. On non-training days, EAA Max can be consumed throughout the day for improved recovery and muscle building.
Warnings:
Read entire label and obtain clearance from a licensed healthcare practitioner before use. This product is to be used by healthy adults only. As with all supplements, KEEP OUT OF REACH OF CHILDREN AND ANIMALS.
PLEASE NOTE: Product image is representative of the product offered but may not have the exact attributes. Please read product description for the specific attributes of this product.
PLEASE NOTE: The information above is intended for reference only. While we attempt to keep our information accurate, we cannot guarantee it is an accurate representation of the latest formulation of the product. If you have any concerns, please visit the vendor's web site. The information above are the views of the product's manufacturer, not the views of Same Day Supplements. These statements have not been evaluated by the Food and Drug Administration. This product is not intended to diagnose, treat, cure or prevent any disease.
*Prices are subject to change at any time and some items are limited to stock on hand.
In-stock orders placed before 3pm EST ship out the same day.
We offer many shipping options to countries like:
Brazil
United Kingdom
Canada
Germany
Australia
Japan
India
France
Israel
Worldwide
More Information

| | |
| --- | --- |
| SKU | EAA-MAX |
| Manufacturer | Primeval Labs |
Customer Reviews
AMINOS TO THE MAX

GREAT TASTING AMINOS, HELPS KEEP ME HYDRATED WHILE LIFTING .

eaa

Best tasting product and products on the market. Great quality