Conqu3r Unleashed By Olympus Labs, Maniacal Mango, 20 Servings, Pre Workout
Conqu3r Unleashed Benefits:
Laser Focus
Incredible Energy
Insane Pumps
Amazing Endurance
Conqu3r Unleashed By Olympus Labs - 20 Servings - Maniacal Mango - Pre Workout
What Is Olympus Labs Conqu3r Unleashed?
CONQU3R Unleashed is an all-in-one formula that contains only the highest quality ingredients, including 5 patented ingredients, an unparalleled feat in sports nutrition! Furthermore, each ingredient is supported by human data, because there are no rodents allowed on Mount Olympus. But that's not enough, we carefully selected the doses to provide optimal results. CONQU3R Unleashed is comprised of 4 main matrices delivering laser focus, extreme energy,
an incredible pump, and amazing endurance.
In addition, we made a significant discovery of a new, naturally occurring stimulant with the one and only, J. Regia. Through internal testing, J. Regia provided extreme focus and energy. So extreme that we structured the entire energy blend of CONQU3R Unleashed to complement this one ingredient and the synergy it provided. Since we vastly improved the energy aspect of CONQU3R Unleashed there was no other choice but to intensify the pump and endurance aspects to match the intensity. The outcome? The barriers to success have been removed, CONQU3R is now Unleashed!
Maximum Endurance Matrix:
If you are going to the gym and short staying your visit due to the inability of lifting any longer, you are missing out on precious gains. CONQU3R Unleashed has you covered with two ATP generating compounds, 2 g of Creatinol-O-Phosphate (COP) and 150 mg of ElevATP. ATP, adenosine triphosphate, is known as the cell's energy currency. In fact, ATP production during weight-lifting or anaerobic events, such as high-intensity repeated, short but intense bursts of activity are largely fueled by anaerobic respiration and through another mechanism of action known as phosphorylation. Phosphorylation is how creatine exerts its potent ATP generating effects and it has been hypothesized that COP elicits its results via the same mechanism or by acting as an intracellular buffer.
Incredible Pump Matrix:
If that endurance matrix wasn't powerful enough on its own, the pump matrix in CONQU3R Unleashed is composed of four ingredients: 4 g of L-citrulline, 2 g of HydroMax Glycerol, 1.5 g Nitrosigine and 1 g Agmatine that help reduce fatigue and also improve endurance. However, these four ingredients were primarily selected for their ability to increase blood flow. The pump effect achieved through the delivery of sufficient blood and oxygen to your muscles will ultimately lead to muscle growth. Of course CONQU3R Unleashed is designed with clinically effective doses to induce an insane pump, like nothing you have ever experienced.
Immaculate Focus & Energy Matrix:
Unlike companies that use different forms of caffeine and call it a stimulant blend, CONQU3R Unleashed only features stimulants that work synergistically to provide maximum focus and energy. The immaculate focus and energy that CONQU3R Unleashed delivers is powered by a mixture of caffeine, the patented version of Alpha-Glyceryl Phosphoryl Choline (Alpha-GPC), AlphaSize, Higenamine, and an exciting new stimulant, J. Regia. Caffeine is well known for its ability to increase focus, mental alertness and exercise performance. Alpha-GPC (AlphaSize) is a powerful nootropic that contributes to the laser focus in CONQU3R Unleashed. J. Regia is a potent extract of a naturally occurring stimulant that will provide an extreme level of focus and energy in combination with the other ingredients in this matrix.
Novel Stimulant
We are proud to introduce you to this exciting new stimulant that is going to revolutionize the pre-workout category. J. Regia is a source of various psychoactive alkaloids and Olympus Labs uses a custom extract of it in CONQU3R Unleashed.
What's Olympus Labs Conqu3r Unleashed?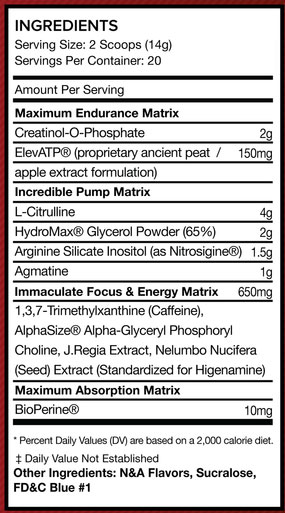 How Do I Take Olympus Labs Conqu3r Unleashed?
As a dietery supplement, take one scoop of Olympus Labs CONQU3R Unleashed 30 minutes prior to workout with 8-10oz of water. Once tolerance has been assessed upto (2) scoops may be taken 30 minutes prior to workout with 8-10oz of water.
PLEASE NOTE: Product image is representative of the product offered but may not have the exact attributes. Please read product description for the specific attributes of this product.
PLEASE NOTE: The information above is intended for reference only. While we attempt to keep our information accurate, we cannot guarantee it is an accurate representation of the latest formulation of the product. If you have any concerns, please visit the vendor's web site. The information above are the views of the product's manufacturer, not the views of Same Day Supplements. These statements have not been evaluated by the Food and Drug Administration. This product is not intended to diagnose, treat, cure or prevent any disease.
*Prices are subject to change at any time and some items are limited to stock on hand.
In-stock orders placed before 3pm EST ship out the same day.
We offer many shipping options to countries like:
Brazil
United Kingdom
Canada
Germany
Australia
Japan
India
France
Israel
Worldwide
More Information

| | |
| --- | --- |
| SKU | OL-0010 |
| Weight | 0.7000 |
| Manufacturer | Olympus Labs |
| UPC | 731882217889 |