Cellucor Protein COR Performance Whey
Cellucor COR Performance Whey Protein Benefits and Results:
Fast Digesting Whey Protein Isolate †
25 Grams of Protein Per Serving †
Maintains and Builds Lean Muscle †
Low Carbohydrate and Low Fat †
Added Digestive Enzymes †
COR Performance - Whey Protein - By Cellucor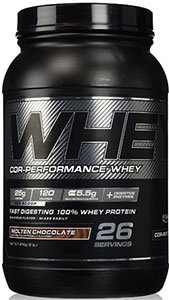 MORE PROTEIN, BETTER FLAVOR
MORE PROTEIN IN EVERY SCOOP WITH COR-Performance: 25 grams of muscle-building 100% Whey Protein.* Cellucor COR-Performance Whey was created with one goal in mind—to deliver a pure protein that packs more protein, and better flavors, into each and every scoop. COR-Performance Whey features a fast digesting Whey Protein Isolate based formula that packs 25G of protein per serving to satisfy protein needs any time of day. Featuring 100% Whey Protein, minimal fat or carbs, added digestive enzymes, perfect mixability and the best flavors on the market, it's safe to say COR-Performance Whey is here to set the new standard in protein.
SETTING THE NEW STANDARD IN PROTEIN ONE SCOOP AT A TIME
- Protein Packed Formula
- Low Carbohydrate
- Digestive Enzymes
- Best In-Class Flavors
- Perfect Mixability
FLAVOR SCIENCE
COR-Performance Whey utilizes some of the most advanced flavor systems available to deliver imaginative, delicious protein flavors that everyone will crave. Sticking to a regimen of exercise and proper nutrition can be tough. Everyone, from rookie to all-star, from novice lifter to seasoned bodybuilder can struggle to get enough protein in their diet. COR-Performance Whey makes it easy to meet your daily protein goals, packing 25G of pure whey protein per scoop, in a wide variety of flavors so you get results, not bored. Mixes Instantly! COR-Performance Whey has been formulated to dissolve instantly in water, milk, or your other beverage of choice.
COR-PERFORMANCE SERIES
The Cellucor COR-Performance Series features premium, innovative formulas you expect from Cellucor in an all-new line up of commodity sports nutrition products. Featuring clinically suggested formulas and unmatched flavor systems, the COR-Performance Series is designed to satisfy every customer: great formulas, great flavors and great prices. The entire line is Informed-Choice certified and sports a fully disclosed TruFacts label. Because the COR-Performance Series is stimulant-free, the products can be added to virtually any stack, and are also compliant with most major athletic organizations.
Because the COR-Performance Series is stimulant-free, the products can be added to virtually any stack, and are also compliant with most major athletic organizations. Stack with C4 for recovery from explosive workouts, BCAAs for enhanced recovery, and NO3 for recovery from pumped up workouts. Always follow label instructions when stacking products.
What's In Cellucor COR-Performance Whey?
How to Take Cellucor COR-Performance Whey:
Take one to two scoops of Cellucor COR-Performance Whey Protein with 6-12 oz (180-360 ml) of cold water or any beverage of your choice. Use approximately 5-6 oz. (150-180 ml) of liquid per one scoop of powder.
Warnings:
This product is only intended to be consumed by healthy adults 18 years of age or older. Do not use this product if you are pregnant or nursing. Discontinue use and immediately contact your health care professional if you experience any adverse reaction to this product. Follow label instructions and do not exceed recommendations for Suggested Use. Do not use if safety seal is broken or missing. KEEP OUT OF REACH OF CHILDREN. Store in a cool, dry place.
PLEASE NOTE: Product image is representative of the product offered but may not have the exact attributes. Please read product description for the specific attributes of this product.
PLEASE NOTE: The information above is intended for reference only. While we attempt to keep our information accurate, we cannot guarantee it is an accurate representation of the latest formulation of the product. If you have any concerns, please visit the vendor's web site. The information above are the views of the product's manufacturer, not the views of Same Day Supplements. These statements have not been evaluated by the Food and Drug Administration. This product is not intended to diagnose, treat, cure or prevent any disease.
*Prices are subject to change at any time and some items are limited to stock on hand.
In-stock orders placed before 3pm EST ship out the same day.
We offer many shipping options to countries like:
Brazil
United Kingdom
Canada
Germany
Australia
Japan
India
France
Israel
Worldwide
More Information

| | |
| --- | --- |
| SKU | CELLUCOR-PROTEIN |
| Manufacturer | Cellucor |
Customer Reviews
PEanut Butter is the best

If you love peanut butter than cellucor protein is for you. I've tried other peanut butter flavor proteins and i have always been disappointed. mix with skim milk for the best taste.

Better with milk

Tried it with water. Tastes good until that after taste of sweetener. Totally kills the taste. Good profile, being 100% whey. Mixes well

Great for those who are lactose intolerant

Best protein out there! being lactose intolerant this is the only protein I have found that doesn't demolish my stomach. plus, the flavors are astonishing. Haven't had an awful flavor yet!