Blue Star Nutraceuticals, Muscle Building Stack
Blue Star Nutraceuticals Muscle Building Stack Benefits and Results:
Increases Strength and Lean Muscle †
Increases Testosterone Levels †
Improves Sleep Quality †
Burns Fat †
Frequently Bought Together
Blue Star Nutraceuticals - Muscle Building Stack
Blue Star Muscle Building Stack is the solution to your problems. Status and GH Peak together are the dream team when it comes to building lean muscle mass.
What Is It?
Blue Star Muscle Building Stack includes two great products: Status and GH Peak. Status is a testosterone booster - it works to block estrogen, improve your athletic performance, and even reduce stress. GH Peak is a growth hormone booster - it works to improve sleep quality and aid in the muscle building process. Together, these two products help you build muscle and strength like never before.
How Does It Work?
Ingredients:
Status:
KSM-66 Ashwagandha: Reduces stress and enhances overall mood, energy, and athletic performance. †
Longjack Extract 100:1: Can boost natural testosterone and improve endurance. †
3,3'-Diindolylmethane: Can reduce total estrogen content. †
TestoSurge (Trigonella foenum-graecum seed): According to research, TestoSurge can elevate total testosterone and biologically active forms of testosterone. †
GH Peak:
Arginine Pyroglutamate: Can cause blood vessels to open wider for improved blood flow.† It is also known to stimulate the release of growth hormone, insulin, and other substances in the body.†
L-Lysine: Can reduce anxiety by blocking stress response receptors, improve calcium absorption and retention. †
Valerian Extract: It is most commonly used for sleep disorders, especially the inability to sleep.† It can treat a variety of health conditions, including insomnia, anxiety, headaches, digestive problems, menopause symptoms, and post-exercise muscle pain and fatigue.†
Sensoril Ashwagandha: Supports emotional well-being, increased resistance to fatigue and tension while boosting energy levels, and promoting mental clarity and concentration.†
5-Hydroxy-L-Tryptophan: Can increase serotonin levels, increase melatonin, and help normalize sleep patterns.†
Melatonin: Can promote a deeper sleep and regulate sleep patterns.†
What Can I Expect?
Increased Muscle Strength and Power †
Enhanced GH Release †
Improved Exercise Recovery †
Anti-Aromatase and Anti-Estrogen Support †
Better Night's Sleep †
Who Should Take It?
Those looking to boost their testosterone and GH levels and improve overall performance can benefit from taking this. †
Who Shouldn't Take It?
It is best to consult with your physician before taking these products.
Featured Customer Reviews:
Review by Dmac34:
I love using this I've felt stronger in every aspect. Gives me great energy all day and stamina is good too. Would definitely recommend to anyone wanting to try it out.
Review by Trevor V:
This is a great product, It helped me a lot over the last 30 days. I t helped me to get better sleep, helped me to fall asleep quicker, and helped me to be less sore, and train harder as a result of recovering faster.
FAQ:
Does this product contain melatonin?
Yes this product contains 5 mg of melatonin per serving size.
Should I take this with food?
The manufacturer claims that this can be taken with or without food, so the choice is yours!
Will this show up on a drug test?
It contains ingredients that may be banned by some sports organizations or cause false positives on drug tests. It is best to consult with your organization or physician before use.
Can women take this?
It is not recommended for women to take this product, as it is meant to boost testosterone levels.
When is the best time to take this?
The manufacturer recommends taking the serving of Status in the morning, and the serving of GH Peak before bed.
Comparisons:
How Do I Take It?
Directions and Dosages:
Blue Star Status: Take 3 capsules of Blue Star Status in the morning with or without food.
GH Peak: Take 4 capsules of GH Peak before bed with or without food.
What's In Blue Star Nutraceuticals Muscle Building Stack?
Blue Star Status Supplement Facts: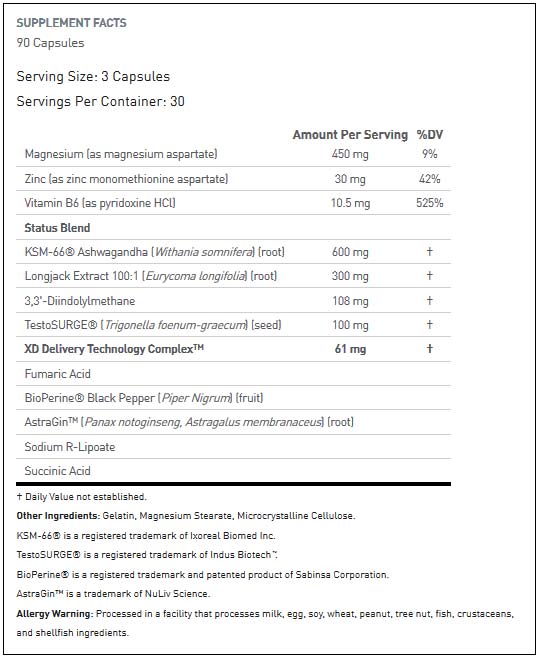 GH Peak Supplement Facts / Label: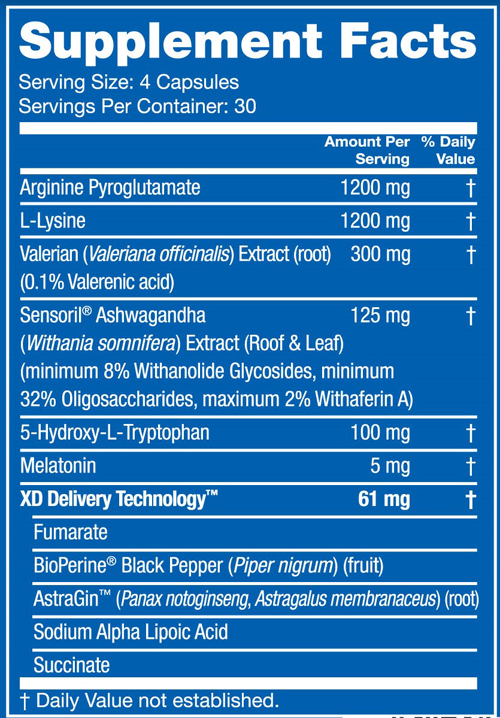 Warnings and Side Effects:
KEEP OUT OF REACH OF CHILDREN. NOT INTENDED FOR USE BY PERSONS UNDER 18. Consult a health care provider before use if you have been treated for or diagnosed with, or have family history of any medical conditions, or if you are using any prescription or over-the-counter medications.
Consult a health care provider before starting any diet or exercise program. Do not exceed recommended servings. Improper use of this product will not improve results and is not advised. Use only directed.
Do not use if safety seal on this package has been broken. Store in a cool, dry place (60ᵒ to 80ᵒ F).
This product contains ingredients that may be banned by some sports organizations and/or increase risk of false positive on a drug test. Please consult with your sport organization or physician before taking this product.
Disclaimer:
PLEASE NOTE: Product images represent the product offered but may not contain exact attributes. Please read the product description for the specific attributes of this product.
†PLEASE NOTE: The intention of the information above is for reference only. It is our goal to maintain and display accurate information. Yet, we can't guarantee it represents the latest formulation of the product. If you have any concerns, please visit the manufacturer's website. The information above is not a representation of our views at Same Day Supplements. These are the views and information provided by the product's manufacturer. The Food and Drug Administration has not evaluated these statements. The intention of this product is not to diagnose, treat, cure or prevent any disease or illness.
*Prices are subject to change at any time and items may limit to stock on hand.
References:
In-stock orders placed before 3pm EST ship out the same day.
We offer many shipping options to countries like:
Brazil
United Kingdom
Canada
Germany
Australia
Japan
India
France
Israel
Worldwide
More Information

| | |
| --- | --- |
| SKU | BS-0038 |
| Weight | 0.5500 |
| Manufacturer | Blue Star Nutraceuticals |
| UPC | BS-0038 |
Customer Reviews
Great Stack

Great stack to take for weight loss and strength.