Whey Protein on a budget: Save money with RIVALUS Promasil Whey Protein
When's the last time you tried a new protein? As bodybuilders and fitness enthusiasts, we tend to be loyal to "our brand" when it comes to supplements. Some prefer only BSN products; others prefer Dymatize or Optimum Nutrition etc. But do you ever stop to think about the other great brands that are out there? Chances are you are missing out…. Big time.
Introducing… RIVALUS Promasil Protein!!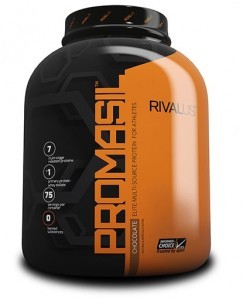 Why try RIVALUS Promasil?
RIVALUS Promasil is a high quality protein blend. Promasil is combination of fast and slow digesting protein. There are no fillers or cheap ingredients and it mainly consists of three different whey proteins: Whey Isolate, Whey Concentrate, and Hydrolyzed whey. Naturally you may think, a higher quality protein supplement requires a premium price tag too. Well we have some good news, RIVALUS Promasil is actually cheaper per serving than many of the other top brand protein powders and considering there are no fillers; you get more protein for your money. Let's see a comparison….
If we take the price of Promasil and divide by 75 servings; the cost per serving works out to be $.78. However, we did not factor that each scoop of Promasil is 80% protein; a much higher protein ratio than what typical protein supplements contain. Really the cost is much cheaper if you factor this. Other protein powders such as BSN Syntha 6 or Dymatize Fusion cost $1.00 – $1.21 per serving and only supply 46-57% protein per scoop. There is a real savings with Promasil and the best part is RIVALUS did not compromise on ingredients.
Mixability and Taste
The product mixes and tastes like how a high quality protein should. The chocolate flavor tastes just like a chocolate milk shake. I used a shaker cup while mixing and there were no un-dissolved protein chunks. I'm happy with the overall quality of Promasil.
You can find RIVALUS Promasil 5lb protein with RIVALUS Powder Burn Pre-workout for $58.99. Click Here to Buy