Supertein by GAT Protein Review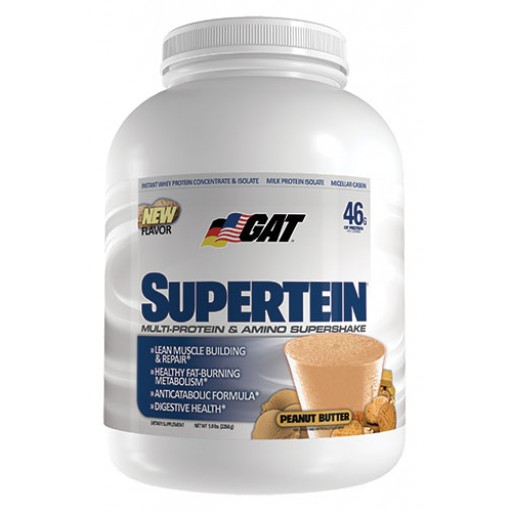 So what is it?
It is GAT's protein blend; it's a multi-protein and amino super shake even has some fat burning properties to it and digestive health properties as well. Speaking of all that is go right to the breakdown.
This breakdown is for the peanut butter flavored protein. You're looking at 190 calories, 4 grams of fat and 15 g carbs and 23 g of protein. It also has 150 mg of Potassium and the rest is pretty standard.
The blend we have here is whey protein concentrate, milk protein isolate, whey protein isolate and casein.
You're also looking at a nice dose of BCAA's and CLA here for healthy fat burning metabolism and some Dutch chicory root to help support digestive health.
So all around great panel, great ingredients 8.5 out of 10.
Mixability
Mixabilty 8 out of 10 I have no complaints, just some chunks on the lid of my shaker cup.
Taste
The smells on point let's give peanut butter a taste. I might have mixed too much water -it's a little watered down. But it's pretty good it taste just like peanut butter so 8 out of 10.
Flavors
Gat Supertein can be found at Same Day Supplements retailing for $25.99 for 2 lb container and $46.99 for the 5 lb container. It comes in vanilla, chocolate and peanut butter flavors.