Optimum Opti-Men by Optimum Nutrition Review Vitamins/ Minerals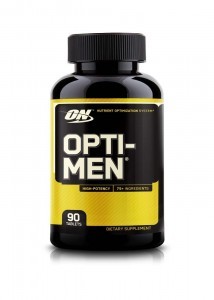 Opti-Men by Optimum Nutrition Review Vitamins/ Minerals- Click Here to Buy
So what is it?
It's a multivitamin made for men that has a few extra bonuses in there that I like. Speaking of all that lets dive right into the breakdown.
So the serving size is 3 tablets again I wont go over all the vitamins and minerals in there, they have you covered A through zinc.
And couple extra things that made me attracted to this multivitamin is the fact they have an amino blend in there.
So you have some branch chain amino acid in general.
You also have a "Phyto men" blend and you see a lot of stuff in here and this is all just geared to get some of your nutrients that you won't get on an everyday basis more specifically your Phyto nutrients.
So you'll see things like orange powder, a fruit blend, a green tea powder and a spinach powder -it has so much vitamins coming from actual vegetables and fruit that is pretty cool to have. It's unique and that was what I wanted to just shed some light on.
One other blend I love to see is going to help support your natural hormone optimization.
Your going to start seeing herbs like,Saw Paletto, Damien, Ginkgo Biloba, Stingy Nettles, ginseng, pumpkin extract, oyster concentrate thats just again hormone optimization geared towards men always good to have in there, not found in every multivitamin.
We have your enzyme blend. What is that? To help you break down and digest everything I just mentioned make sure everything is following right being absorbed properly.
Than you have some little things here I'll mention,  ALA -things like that is basically antioxidant blend is what it all boils down to. So there is a reason why i like to shed light on that because your Century 21, your standard grocery store multivitamin, they are not going to have nowhere near as good qualities as what's in here. So 9 out of 10 for multivitamins by Optimum Nutrition…good job.
 So how should you take in what should you expect?
Well three tablets is the serving size so I take it at night since im about to fast for eight hours and sleep and I'm not eating during that time so now my body is having a more nutrient flow coming in as opposed to eatting wholesome foods throughout the day getting nutrients that way so again at night. You could in the morning I just recommend at night it doesnt say so on the bottle.
What should you expect?
You're going to notice more pep to your step due to some of the herbs in here.
If you're deficient in certain vitamins or minerals you might notice something but nothing out of this world.
Just a multivitamin that I really like.
Opti Men Review
Breakdown (Ingredients) -

9/10
Summary
So you can find optimum nutrition opti-men at Same Day Supplements for $24.69 for 150 tablets verison or 180 tab verison …or for a 90 tab version it only retails for $17.09.