Hydroxyelite: Old vs New UPDATED 2019
Back in 2015, we welcomed Hydroxyelite By Hi-Tech Pharmaceuticals for the first time. It was a replacement for our beloved Oxyelite Pro. Fast forward to end the of October 2017, we said a farewell to our favorite fat burner. Now in February 2018, we are excited to reintroduce Hydroxyelite Pro but what has changed and what can you expect?
The Old Hydroxyelite:
When Hi-Tech Pharmaceuticals first introduced Hydroxyelite it was marketed as being nearly the exact formula as Oxyelite Pro. But with the addition of Garcinia Cambodia extract. This included the famous stimulant 1,3 Dimethylamylamine HCl (DMAA).
The New Hydroxyelite:
The reintroduction of Hydroxyelite came with a revision on the formula. Now Hydroxyelite features 2-aminoisoheptane as its main stimulant. As well as 50mg less of the Garcinia Cambodia extract and the addition of walnut bark extract.
Why the change ?
Back in October 2017, the FDA stopped Hi-Tech Pharma from manufacturing with DMAA. The ability to manufacture with DMAA has been in court ever since. So for now, Hydroxyelite doesn't contain DMAA.

Since the new formula, we have received hundreds of positive feedback

. In fact, Hydroxyelite remains the top-selling fat burner. But if you're still unsure if Hydroxyelite is right for you,

just

look at our customer reviews.
Instead of DMAA
Hydroxyelite contains 2-Aminoisoheptane. This is a DMAA-like stimulant that goes by several names. In fact, DMAA and 2-aminoisoheptane actually work in the same fashion. It is naturally found in Walnut Bark extract or the bark from the Juglans Regia tree. (1)
So What is 2-aminoisoheptane?
2-Aminoisoheptane  is a DMAA-like stimulant that goes by several names. It can actually mean two different stimulants:
2-amino-

6

-methylheptane
2-amino-

5

-methylheptane
It is naturally found in Walnut Bark extract, or the bark from the Juglans Regia tree. This ingredient, 2-aminoisoheptane, acts as a bronchodilator. Meaning it will increase your oxygen capacity, and it also has vaso-constricting properties. DMAA and 2-aminoisoheptane  actually work in the same fashion.
They both boost dopamine and noradrenaline uptake, while slowing down reuptake just long enough for a solid workout. Additionally 2-aminoisoheptane shares similar structures to that of DMAA. But instead of diving any deeper in the chemistry, we'll save you from the science and get to the good stuff.
How does it feel and what can you expect?
Users state the effects of 2-aminoisoheptane lasts several hours. And that they felt a heightened sense of euphoria and well-being during that period of time. This is what we can predict based on the structure and similarities to DMAA. As far as any crash goes, it was report a much smoother come-down.
Especially compared to that of DMAA. This enabled them to continue to have a good day long after the stimulant has worn off. Essentially it decreases fatigue and allows for a significant increase in intensity of exercise. While also increasing concentration and suppressing appetite.
As for the new formula of Hydroxyelite, some of our customers said they get all the benefits of DMAA just without the crash, but you'll have to keep us in the loop too! Let us know how you like it!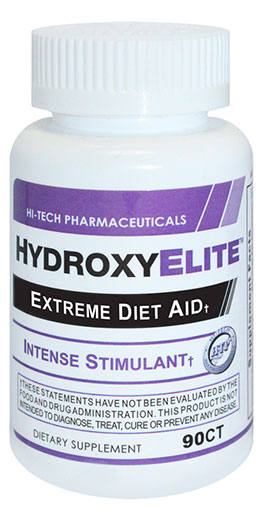 PLEASE NOTE:
The intention of the information above is for reference only. It is our goal to maintain and display accurate information. Yet, we can't guarantee it represents the latest formulation of the product. If you have any concerns, please visit the manufacturer's web site. Also, the information above is not a representation of our views at Same Day Supplements. These are the views and information provided by product's manufacturer. The Food and Drug Administration has not evaluated these statements. The intention of this product is not to diagnose, treat, cure or prevent any disease or illness.