Same Day Supplements India- How to Track DHL Parcel Standard Packages
Namaste! Welcome to Same Day Supplements India! In this post we're going to explain how you can track your DHL Parcel Standard Package. But first, we would like to explain how DHL Global Mail works.
How DHL Works
DHL uses delivery partners worldwide. This is the reason their rates are cheaper than any other courier. First, DHL Global Mail picks up the packages from Same Day Supplements. Orders placed before 3pm Eastern Standard Time are shipped out the same day. Next, the packages are transported to the New Jersey Terminal for processing and sorting. This process normally takes 3 business days or less depending on volume, holidays and weather. For India, packages are routed through Germany where it is consolidated with other packages. Finally the package is forwarded to India and enter into customs for clearance. Once package clears customs it is given to the Indian post office which is the courier who will deliver the package to its final destination. As mentioned at checkout, average delivery is expected within 20-30 Business days (depending on Customs).This is an average transit time, some packages can be delayed up to 60 days. This is still within normal delivery times for India.
 How to Track Same Day Supplements India DHL PARCEL STD Packages
First we're going to click on my account.
Go ahead and log in with your email address and password.
Next find "my orders" and find the order you want to track.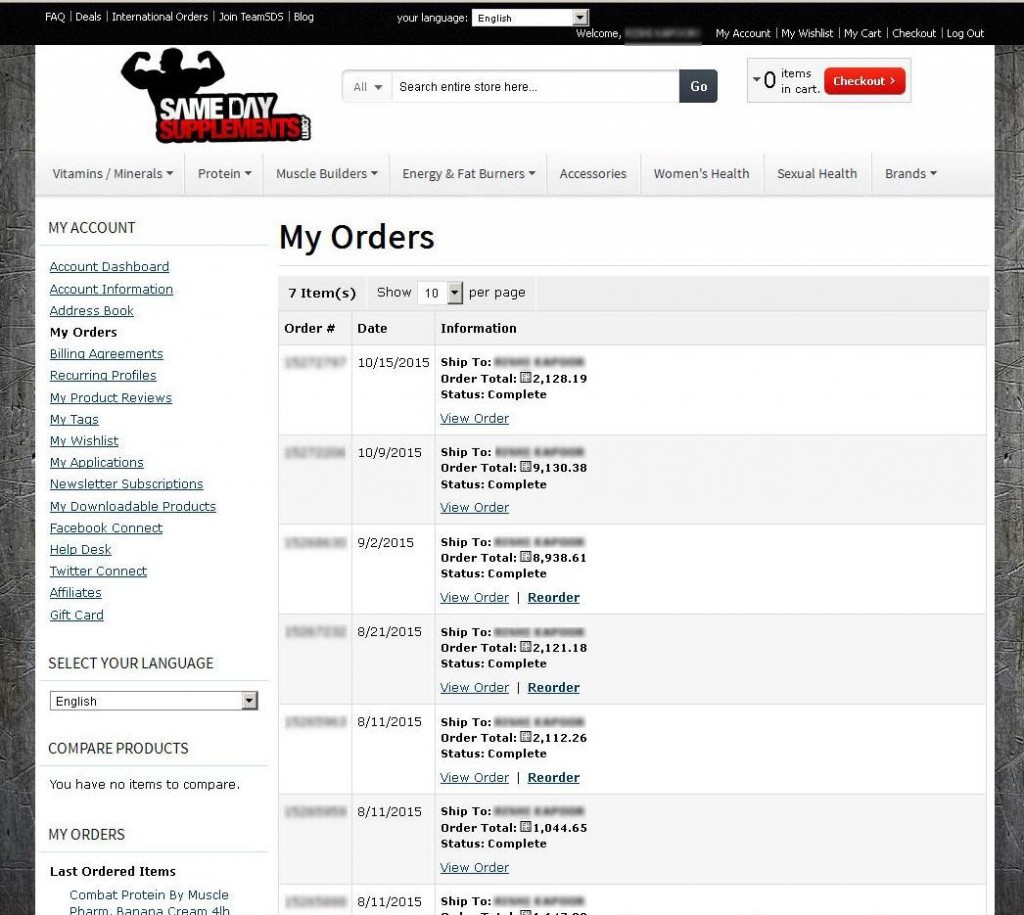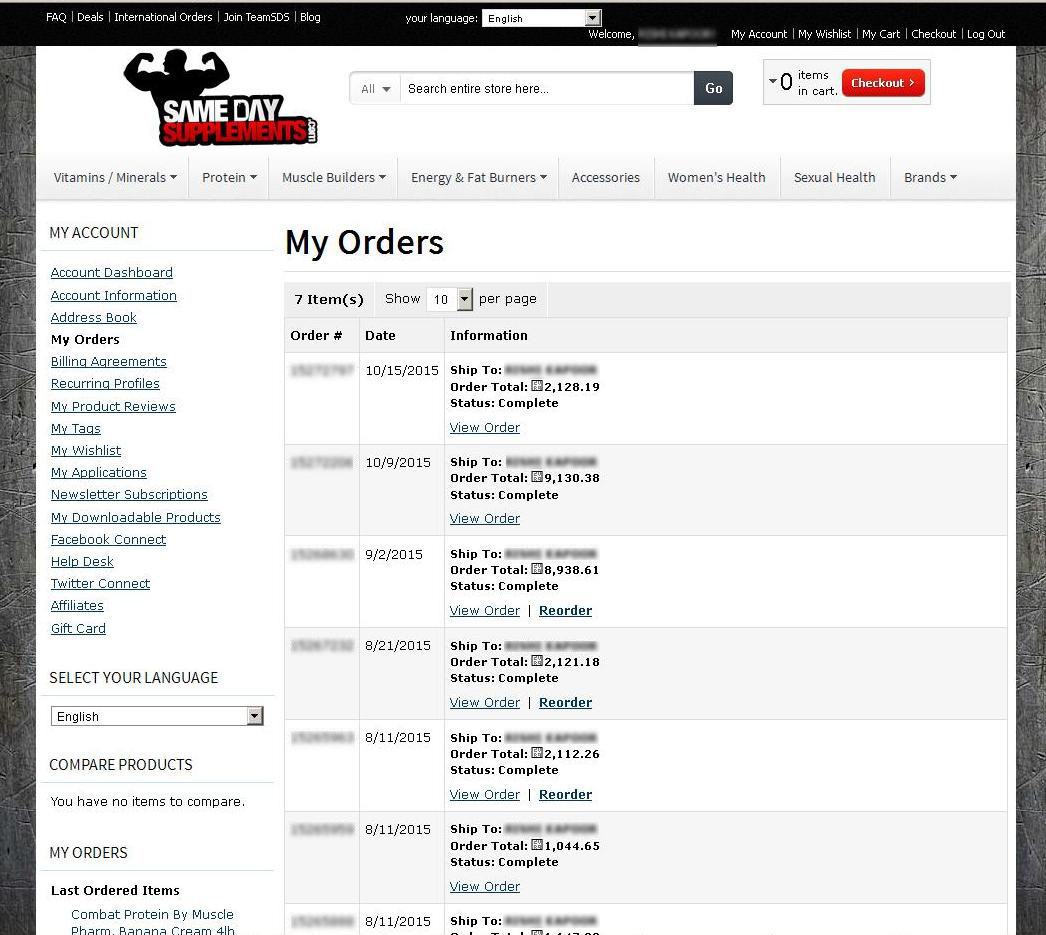 On the bottom click "track your order"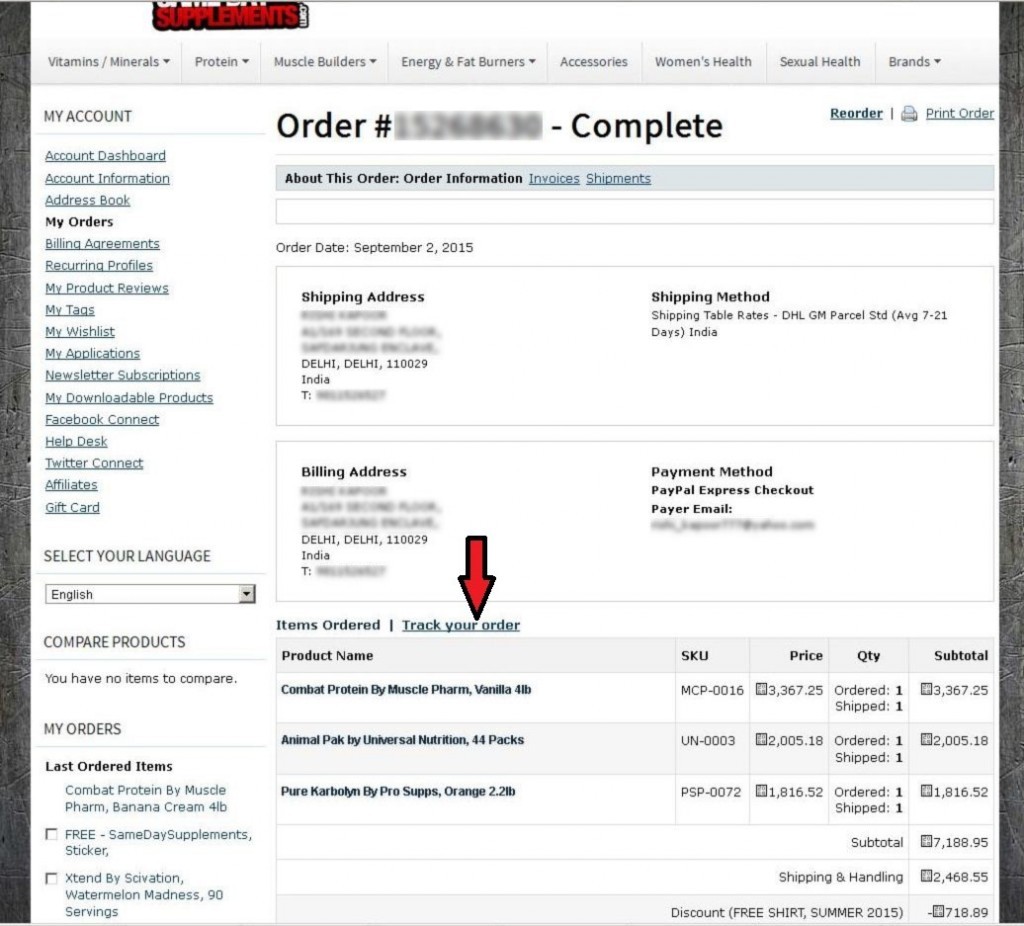 Your tracking information is displayed on the DHL website but sometimes DHL doesn't have the latest information. So we're looking for the secondary tracking number under the "Delivery by Postal provider"
We're looking for a "CG" tracking number. Click on the CG number. A new window will open up in the DHL website.
Copy the CG number. (this number can take up to 10 business days to appear)
Then click on the link provided in towards the middle of the page or click this link below.
https://www.indiapost.gov.in/_layouts/15/dop.portal.tracking/trackconsignment.aspx
Paste the tracking number in the item id box and click enter. NOTE:Tracking with the CG code depends on the Post Office in India to physically scan the package (they are not required to do so). If the post office does not scan the package, tracking will not be available. However, this will not affect the delivery of your package. If this is the case, you're going to have to contact your local post office for your orders tracking information.

Here you will find the latest tracking information.