AST Creatine Monohydrate Powder, Micronized
AST Creatine Benefits and Results:
Lean Mass, Power, Strength †
Increases in Muscle Fiber Size, Lean Muscle Mass, and Strength †
Advanced Formula Delivers a Fast Acting Rapidly Absorbing †
AST Creatine Monohydrate - Micronized - Powder - Muscle Builder
AST Creatine Monohydrate is very versatile. It mixes instantly in liquid and stays suspended longer. It has no gritty mouth feel and is easy on the stomach. Micronized Creatine offers the most effective creatine monohydrate for fast results.
New "Micronized" Creatine:
With AST's constant commitment to improve the effectiveness of sports supplementation we have developed a new creatine supplement that incorporates state-of-the-art particle micronizing technology (PMTTM). This technology sets a new standard for creatine monohydrate supplementation by actually producing creatine 'micro-particles' that are 20 times smaller than regular creatine powder. Micronized creatine has numerous advantages over regular creatine monohydrate.
Faster Absorption:
AST Creatine Monohydrate's smaller particle size means quicker digestion and faster utilization.
More Efficient:
20 times more total surface area for greater uptake into the bloodstream.
Greater Purity:
Micronizing creatine produces a more pure creatine. By increasing the total processing steps and purification procedures, AST Creatine Monohydrate yields a finished product substantially more pure. Test it. We challenge you.
Mixes Easier and Better:
AST Creatine Monohydrate has 20 times more surface area. Greater service area means easier, faster and more complete mixing.
No Stomach Upset:
Regular creatine monohydrate sits in the gut longer. This causes discomfort to many users. AST Creatine Monohydrate goes into solution better and leaves the gut quicker causing no stomach upset.
Better Results:
New Micronized Creatine offers 2000% more particle surface area for better utilization, better uptake, and faster results.
Drink Plenty of Liquids!
Creatine works by enhancing muscle cell hydration. It is very important to consume adequate fluids while taking creatine to see best results. A good rule of thumb is to drink an EXTRA 16 to 20 ounces of liquid for every 5 grams of creatine you take. During your Loading Phase you should be drinking an EXTRA 64 to 80 ounces of liquid than you normally drink. During the maintenance phase you should drink an EXTRA 32 to 40 ounces. This is very important and ensures you get the maximum out of creatine supplementation.
What's In AST Creatine Monohydrate?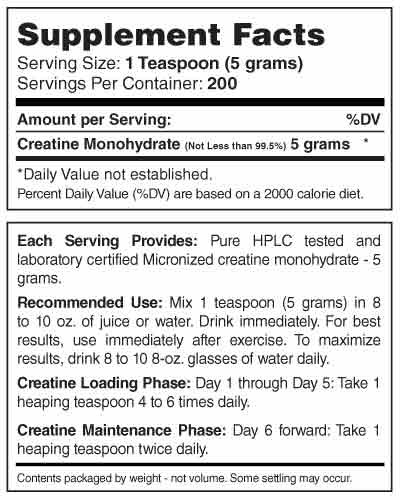 How to Take AST Creatine Monohydrate:
Mix 1 teaspoon of AST Creatine Monohydrate (5 grams) in 8 to 10 oz. of juice or water. Drink immediately. For best results, use immediately after exercise. To maximize results, drink 8 to 108 oz. glasses of water daily. Creatine Loading Phase: Day 1 through Day5: Take 1 heaping teaspoon of AST Creatine Monohydrate 4 to 6 times daily. Creatine Maintenance Phase: Day 6 forward: Take 1 heaping teaspoon of AST Creatine Monohydrate twice daily.
PLEASE NOTE: Product image is representative of the product offered but may not have the exact attributes. Please read product description for the specific attributes of this product.
PLEASE NOTE: The information above is intended for reference only. While we attempt to keep our information accurate, we cannot guarantee it is an accurate representation of the latest formulation of the product. If you have any concerns, please visit the vendor's web site. The information above are the views of the product's manufacturer, not the views of Same Day Supplements. These statements have not been evaluated by the Food and Drug Administration. This product is not intended to diagnose, treat, cure or prevent any disease.
*Prices are subject to change at any time and some items are limited to stock on hand.
In-stock orders placed before 3pm EST ship out the same day.
We offer many shipping options to countries like:
Brazil
United Kingdom
Canada
Germany
Australia
Japan
India
France
Israel
Worldwide
More Information

| | |
| --- | --- |
| SKU | AST-CREATINE-POWDER |
| Manufacturer | AST Sports Science |
Customer Reviews
Principal suplemento

Não pode falar na sua suplementação uma ótima creatina e a AST cumpre o que promete

AST Creatine

You can't go wrong with creatine. No taste, which is great. Mixes great since it is Micronized. 1000 grams will last you a life time. Great Product.